Sewage Backup
John Fowler, owner of 911 Restoration Saint Louis, wants you to call on us during your time of need, so we can be there to restore order back to your home and put your mind at ease.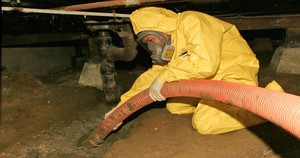 When the sewage system in your house gets backed up it really causes a commotion in the home.
The sewage cleanup Saint Louis team is fully capable of quickly and efficiently cleaning up your home after a sewage backup.
From the initial time we get your call, you will have a sewage cleanup crew arriving to your home within 45 minutes.
Our staff is fully equipped with the latest state of the art technology in order to get your home as clean as possible, as fast as possible.
If you have experienced a sewage backup on your property and you need help getting your home back in order, call the sewage cleanup Saint Louis pros today.
Understanding the Most Common Reasons for a Sewage Backup
911 Restoration Saint Louis has seen it all when it comes to sewage backup issues. Their 35 years of experience has helped them understand the major reasons why sewage systems act up.
In order to help keep their customers' homes clean and healthy, the sewage cleanup experts are happy to share some of the main causes of sewage backup.
Make sure nothing is clogged on a regular basis. This includes checking the main sewage line, as well as the drain line. If you have one sink or toilet that will not work, then it probably means one of your drains is clogged. However, if there is a backup every time any toilet is flushed then there is probably a problem with the main sewer line.
Your yard may be causing interference. As beautiful as your trees, bushes and other foliage may be, they also may be causing issues with your sewer system. Roots can be strong, causing damage to the pipes that could in turn create a sewage backup. Be aware if you have any old trees around your home that may eventually cause interference.
Old sewer lines. As sturdy as cast iron or clay materials seem, they can still deteriorate over the years. When pipes and drains made from these materials start to break down, issues with sewage backup can occur. Replacing these old drainage systems with plastic ones will help prevent future problems.
We know that when sewage strikes, you want nothing more but to clean up the mess, so we are available 24/7/365, all year round, in order to make sure that we can be there for you any time, day or night.
Regular Maintenance Will Keep Sewage Backup at Bay  
By staying on top of your home sewage system and making sure that everything is functioning smoothly you will prevent sewage backups from happening, as well as help your insurance claim in the case that a problem does occur.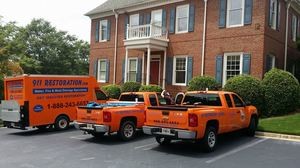 You can maintain pipe performance by simply hiring a plumber to come and check the pipes on a regular basis, making a special effort to have someone come when the seasons change.
By having the pipes insulated properly and replaced when needed, homeowners will be able to avoid sewage backups.
If you decide to take matters into your own hands when dealing with a clog, make sure to not pour harsh chemicals down the drain.They are not good for your pipes, or the environment.
In the end, these unclogging chemicals can end up costing you way more money. Let 911 Restoration Saint Louis cleanup your sewage backup the right way.
Call our sewage backup cleanup Saint Louis team with 911 Restoration Saint Louis and let us help give you a fresh start today!