Water Damage St. Louis
911 Restoration Saint Louis
911 Restoration Saint Louis offers water damage restoration, fire and smoke repair, sewage backup removal, mold cleanup and many other disaster reconstruction resources to the whole community.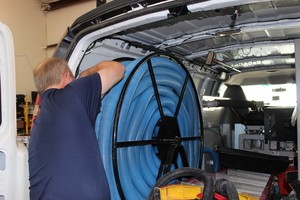 The owners of the Saint Louis branch are dedicated to their customers, making sure that they provide their customers with efficient and affordable service they deserve.
For the homeowners in the Saint Louis area it is important that they feel safe knowing that they have emergency services available 24/7/365, all year round.
911 Restoration Saint Louis is stocked with the most state-of-art equipment, ensuring that they can handle any level of water damage restoration. Our Saint Louis experts are all the most highly trained professionals in the area.
Their vans are always packed and ready to go on a moment's notice, enabling their crew to get to you within 45 minutes.
The water damage restoration team has fixed it all, from pipe bursts and neighborhood flooding's to sewage overflows and moldy basements. Let 911 Restoration Saint Louis make you their priority by calling them today!
Water Damage Restoration
The crew at 911 Restoration Saint Louis is well-versed in all types of water damage restoration jobs, as well as knowing exactly how to put a customer's mind at ease.
Our representatives always reassure our customers that their home is going to look better than ever when they are done with it, and they mean it.
The homeowners of Saint Louis need to know that the water damage removal professionals will do everything they can to preserve their personal items, along with using all their resources to get the customer's home in pristine condition.
We are IICRC certified, meaning that we meet both the high standards and ethics of the home restoration industry.
There isn't anything that the water damage restoration staff has not been able to repair, so if you are worried about water ruining your home, please call our water damage Saint Louis staff with 911 Restoration Saint Louis today!
Sewage Backup Cleanup
In the event of a sewage backup, the staff at 911 Restoration Saint Louis is the best in the business.
With years of experience under their belt, they will be able to rid your home of any toxic substances, making sure that no mold or hazardous materials are left behind.
Sewage can be a serious health hazard and that is why we suggest avoiding contact with it as much as is possible if you encounter a backup situation.
Instead you need to contact our expert sewage backup cleanup Saint Louis staff to help with all of the challenges that these situations present.
Category three flooding issues require immediate assistance, so make sure to contact our sewage backup cleanup Saint Louis staff with 911 Restoration Saint Louis today!
Fire and Smoke Restoration
When you first think of fire and smoke restoration you most certainly think of all the soot and ash that is formed from the fire damage.
However, many people forget about the water damage that also occurs due to the fire extinguishers putting out the fire itself.
This leaves an extensive level of damage that needs to be cleaned up.
The team at 911 Restoration is armed with all the machinery needed to clear away fire and water damage in order to get your house feeling like home again.
Please get in touch with our fire and smoke damage restoration Saint Louis staff with 911 Restoration Saint Louis if you need any assistance today!
Disaster Restoration
When any type of disaster strikes, the first thing a homeowner needs to do is make sure that their family and home are safe.
911 Restoration can assist in any disaster restoration, no matter how extreme the situation. The Saint Louis team is always standing by to help you out of any situation.
They will arrive quickly, easing the customer's mind with their efficiency.
911 Restoration Saint Louis is looking forward to giving you a fresh start today, so please do not hesitate to call our disaster restoration Saint Louis staff with any problem you may be experiencing today!
Mold Remediation
Mold can be a mysterious phenomenon. People need to be aware that it is dangerous to keep it growing in your home.
Due to lack of knowledge, customers might allow mold to stay unresolved in the property for a lot longer than they should.
Instead of living with mold, the experts at 911 Restoration Saint Louis will properly identify the contaminated area and clear the property of any hazardous material.
They have all the gear necessary for mold remediation. Professionals will remove spores and fungus in order to create a safe living environment for you and your family.
If your home is starting to smell musty, then you may have a fungus infestation afoot. Don't fret, call our mold removal Saint Louis staff with 911 Restoration Saint Louis for immediate assistance today!